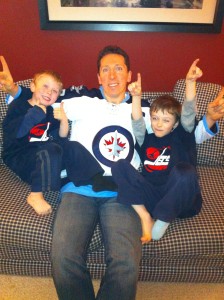 The other day, I found myself getting frustrated with my sons while they streamed their TV shows. I must have been in a bad mood at that moment because there was no reason for me to have become frustrated. Upon further reflection, I realized my sons are like their dad.
My sons have access to almost every TV series and movie ever made thanks to the internet. There is so much content, it can be overwhelming to new streamers. I've tried to introduce them to some amazing age-appropriate TV shows that I enjoyed when I was their age, however they always seem to return to the same three or four TV series and stream the same episodes over and over again.
I didn't grow up with streaming. My viewing experience came from traditional cable and rented movies from the local video store. I also spent many weekends at the movie theater with my buddies. The summer that E.T. came out I remember I didn't want to go to a buddy's birthday party because they were going to see E.T. as part of the party. It looked scary to me. Well, by the end of the summer, I had seen the movie five times in the theater. It was and still is one of my favourite movies.
As I think more about myself at their age, I remember watching TV series like they do today with only a few changes. Back then, my shows were M*A*S*H*, Cheers, Happy Days, The Facts Of Life, Growing Pains, Family Ties, Different Strokes, Good Times, and so many more. I'd watch the same episodes over and over just as my sons do today with their shows. In fact, I've seen every episode of M*A*S*H* at least five times. It's my favourite TV series. One big difference from back when I was their age, is that I had to watch commercials. Today, my sons can stream an hour-long TV show in 42 minutes. Streaming does save you time and money. It's a fact!
I'm going to continue to try and introduce my sons to more must-watch TV (from the olden days) as they grow up. But if we don't get to them now, I'm not going to worry about it. One of the nice things about the internet is the content will be there and available for on-demand streaming when they're ready.